Green State Power completes Duke University's Solar Parking Canopy
Green State Power is proud to showcase the 919 kW parking canopy project we recently completed at Duke University.   Green State Power installed 2,554 panels providing shade to the cars on the top level of the garage, all while producing 1.3 million kilowatt hours of electricity annually to cover energy needs from the garage and other campus buildings.  Read more in the Duke Today article featured below.
Green State Power is a turnkey commercial solar installer ready to help your business find reliable and cost-effective sustainable energy solutions.  Contact us today to discuss a custom commercial solar project!
RESEARCH DRIVE GARAGE HARVESTS POWER OF SUN
Solar panels power the garage and reduce Duke's carbon footprint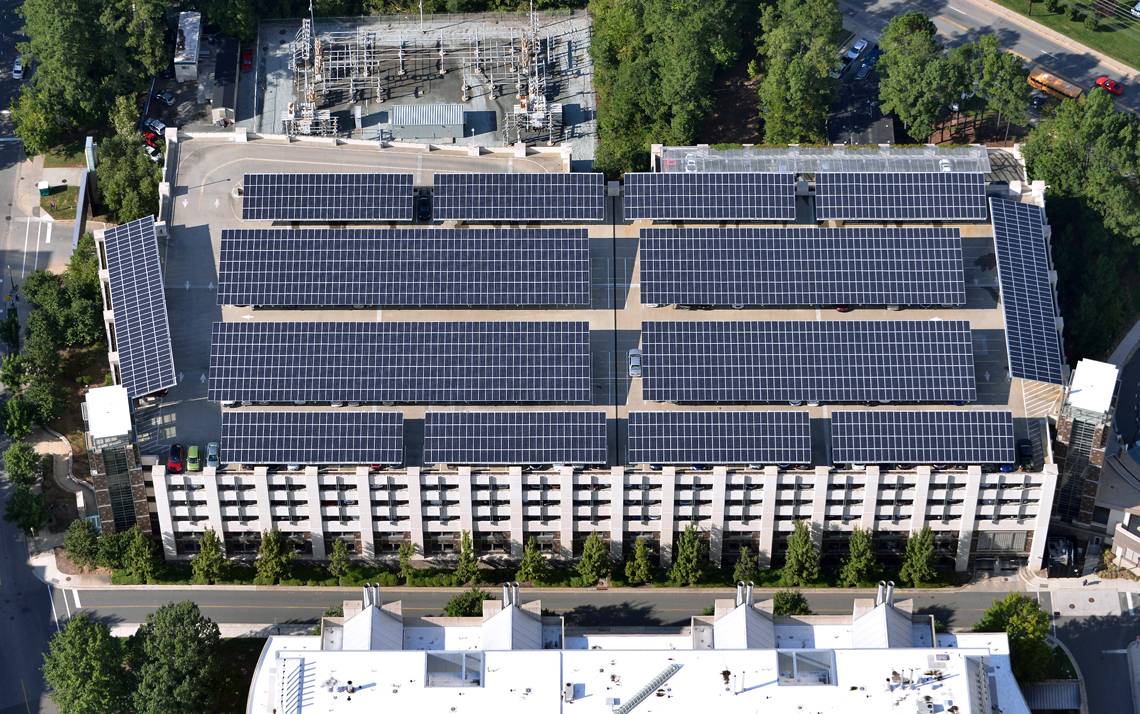 The rooftop of Duke's Research Drive Garage shines brighter these days.
Construction on a solar panel system atop the seven-story parking garage is complete. The panels, which sit on a canopy above the deck's top level, provide 1.3 million kilowatt hours of electricity annually, which covers the needs of the garage and puts excess energy back into the grid to power other buildings at Duke.
The panels also eliminate 430 metric tons of carbon from Duke's footprint each year, which is equivalent to roughly 85 cars being removed from the road for one year, according to the U.S. Environmental Protection Agency.
"The work on the solar panels signifies Duke's commitment to the environment and to sustainable energy," said Hector Hernandez, project manager with Duke Facilities Management.
Solar panels were part of the original design of the Research Drive Garage at the intersection of Research Drive and Erwin Road, also known as Parking Garage 9, when it opened in 2010. The deck holds about 1,900 vehicles, uses LED lights and captures rainwater to reuse for irrigation around Duke's campus.
With solar panel systems becoming more efficient and affordable, Duke revisited the plan to build the panels in 2017. The $2.3-million project was approved to begin in March 2018.
Duke arranged the 2,554 panels in six rows. Four rows turn toward the south, one toward the east and another toward the west. When located in the northern hemisphere, solar panels generally face the south as it is the best direction to receive sunlight, Hector said.
This project was the first Hernandez has worked on with solar panels. He described it as a learning experience. Because the Triangle doesn't experience heavy snowfall regularly, Facilities didn't consider the impacts of winter weather on the solar panels.
After Durham received nearly a foot of snow, ice and freezing rain last December, Facilities Management installed snow guards, which prevent frozen precipitation from sliding off of the solar arrays to the ground in large sheets of ice.
"There was a lot of enthusiasm about this project," Hernandez said. "It's exciting to see it completed."
Learn more about Sustainable Duke here.